Losing your files and whatever needs to be protected on your computer when you least expect it, can be heartbreaking and highly frustrating. IT professionals now try to do everything possible to prevent their systems from crashing.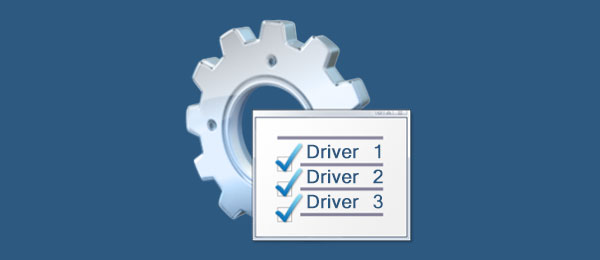 However, in the ideal world, virtually every real human being that lives on this planet should understand that systems are prone to accidents like that. Systems crash every now and then for obvious reasons. This article, however, tends to be looking at things from a different perspective. You are about to be exposed to driver backup software that can prevent you from losing everything in your system whenever you experience any unexpected reaction by your computer.
Highlighted below will be top 5 driver software for windows. These are real software programs that are meant to keep you in the game of whichever IT section you specialize in when anything happens to your computer.
Getting us underway would be our very first driver backup for windows, and it is:
---
Quick Overview – Top 5 Driver Backup Software for Windows
| | Free Driver Backup | Driver Max | DriverBackup | Double Driver | Driver Magician Lite |
| --- | --- | --- | --- | --- | --- |
| Overall | (5 / 5) | (4.5 / 5) | (4.5 / 5) | (3.5 / 5) | (4 / 5) |
| Pricing | $0 | $14.51/2 years | $0 | $0 | $0 |
| Simplicity | (5 / 5) | (4 / 5) | (3 / 5) | (5 / 5) | (3.5 / 5) |
| Scan Speed | (5 / 5) | (4 / 5) | (5 / 5) | (5 / 5) | (5 / 5) |
| Usability | (5 / 5) | (5 / 5) | (4.5 / 5) | (3 / 5) | (4 / 5) |
| Cookies Backup | | | | | |
| IE Favorites Backup | | | | | |
| Registry backup | | | | | |
| Default Selection | | | | | |
| Driver Info | | | | | |
---
1. Free Driver Backup
The first thing worthy of note here about this software is the word "free". Most people feel that all the free software that is out there are likely going to be harmful to their computer. Well, if this how you feel, then you need to try this software out and you will certainly have a change of mind about free software.
Free driver backup is free in every sense of the word. You don't have to do anything before you can start enjoying its full benefits on your computer. Unlike other software where you may need to sign up for a free account before you download, free driver backup is just there waiting for you to download. Let us touch more on some of the features that make this software a good bet for your file and driver backup any time any day.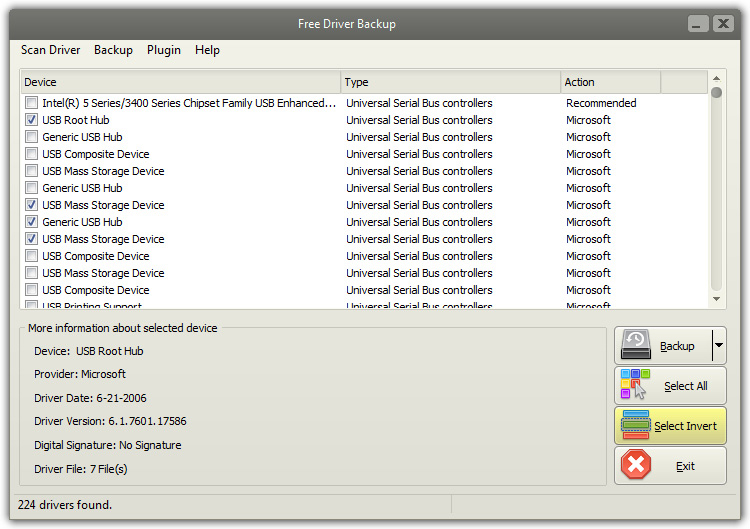 Features of Free Driver Backup
Reliable backup and restoration of your drivers: with this software, your days of panicking when your system crashes are simply over. The free driver backup searches your hard disk for every driver information with regards to all the available hardware on the system. After searching the system, it goes ahead to map the driver information to a particular date and have the information stored. This way when anything funny happens, like your computer crashing, it will be super easy for the software to restore your system back to the way those drivers were before the crash.
Reinstalling windows without any stress: Any IT person who has reinstalled windows before knows that there is one frightening part of the reinstallation exercise, and that part is to get your drivers back. You do not have to worry a bit about your drivers when reinstalling windows that use free driver backup. Save yourself the stress of trying to re-download everything from the internet or even trying to locate your previous CD-ROMs for installation.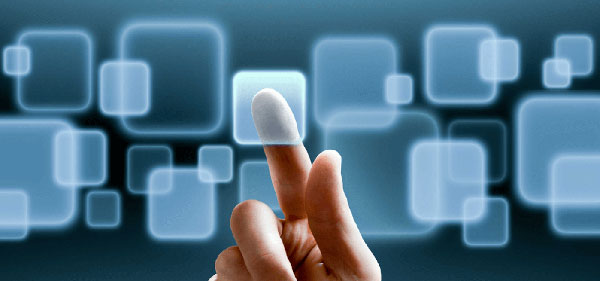 Recommended driver backup: When you run the software on your computer it immediately recommends any driver that will need urgent backup. All you have to do is enable those backups and have those drivers backed up as the case may be. You can see that with this you don't need any kind of professional IT support. Anyone can do it. It is that simple.
Backing up cookies: for any IT person, there are always regular sites that you will always visit. You would find this software particularly useful in this regards. It helps you save your cookies, ensuring that you don't have to enter your username and password every time you visit those regular sites from time to time.
---
2. Driver Max
Driver Max ($14.51 / 2 years ) is another great solution when it comes to driver backup. The driver max has so many drivers that make up its collection. Some of this drivers include: Intel, Nvidia, Microsoft, and Realtek. It is compatible with almost any version of windows. It has a free and a paid version, whichever one you decide is entirely up to you. These are some of the features of driver max.
Features of Driver Max
Has a collection of drivers that works pretty well with 32 bits and 62 bits versions of any windows OS.
Pro users have the ability to enjoy every download feature.
Offers you that additional security
---
3. DriverBackup
DriverBackup simply represents one of the coolest user-friendly apps. You will be amazed at how easy it is for you to get things started on it. It provides users with three ways to have their drivers backed up. Listed below are some features of this software.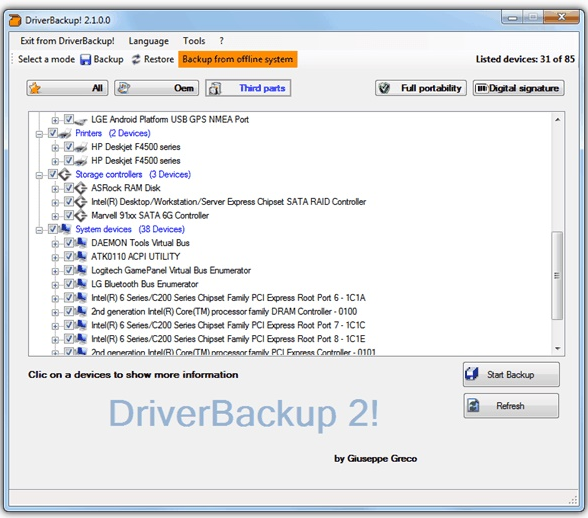 Features of DriverBackup
You do not need to install the software before you can use it
Its light and easy to use
It is a free software

---
4. Double Driver
Double Driver is about one of the most reliable tools for backing up your files and drivers on Windows. You can get very robust backup services without having to pay any money. The downside with this software is its irregular update as well as its selectivity with operating systems.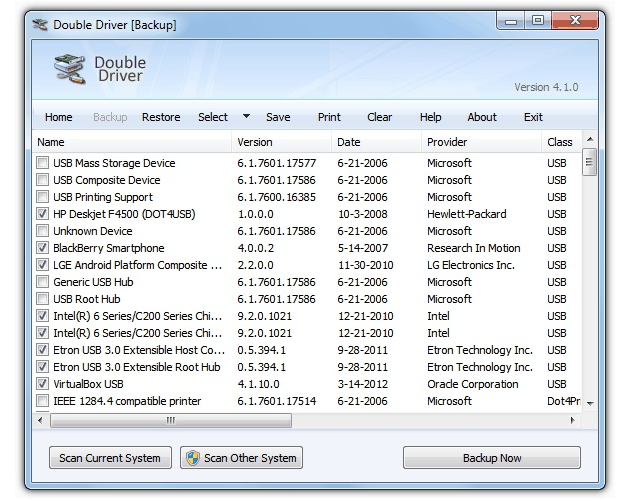 Features of Double Driver
It can save your driver details in no time.
Backing up drivers from the current Windows is also possible
There are command line and graphical user interface versions of the software
---
5. Driver Magician Lite
Driver Magician Lite has been regarded by many IT professionals as a tool that has everything you can ever want for your driver troubles. It works very well with all windows version. You don't need to bother yourself about getting latest updates because it updates itself automatically whenever there is any new update.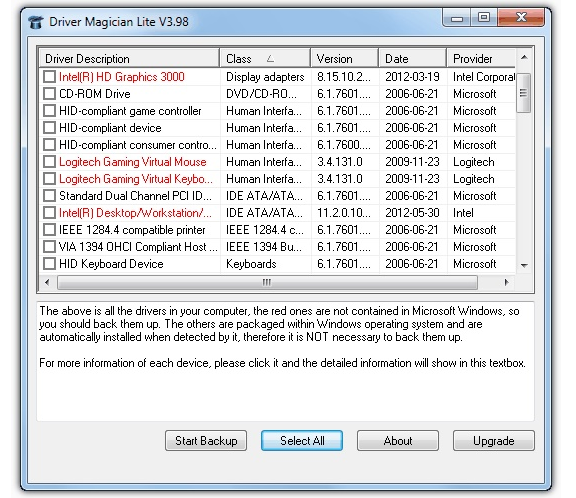 Features of Driver Magician Lite
100% compatibility with every windows OS
Backing up of essential documents is also guaranteed
Driver restore is as easy as anything.
You are guaranteed of automatic driver update.
---
How to Back up Drivers with Free Driver Backup
1. Using Free Driver Backup is very easy. Just download, install and launch it. On the left top of the program window, click "Scan Driver" and you'll see two options"Scan recommended drivers" or "Scan all drivers". Just pick the one according to your needs. After that, Free Driver Backup will list all the available drivers for you to back up.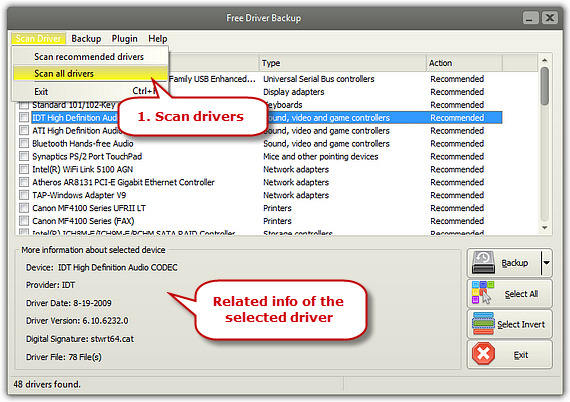 2. Drag the slider on the right of the list to view the drivers if there are too many of them. You can check the drivers you want to back up or use the "Select All" or "Select Invert" button to select them.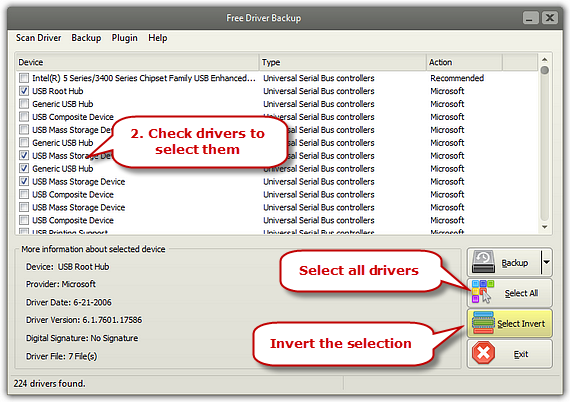 3. Click "Backup" to choose the folder to store the backup and in a short while the backup will be finished. See what you should to you need to reinstall/restore drivers.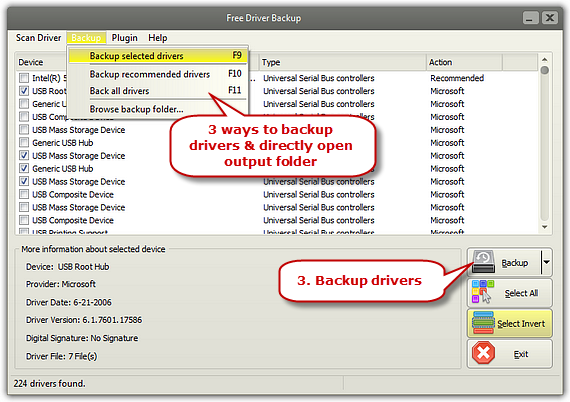 Note: do not back the drivers up on the disk that your OS is on.