Introduction
Free Driver Backup helps backup your Internet Explorer favorites so that you won't get upset when your PC crashes and have to reinstall windows thus losing everything in your favorites folder. It allows you to customize the output folder from which you can log in any website of favorites by clicking the internet shortcut.
Step 1. Activate IE Favorites Backup Window
Launch Free Driver Backup and click "Plugin" to choose "IE Favorites Backup" to activate the IE favorites backup window.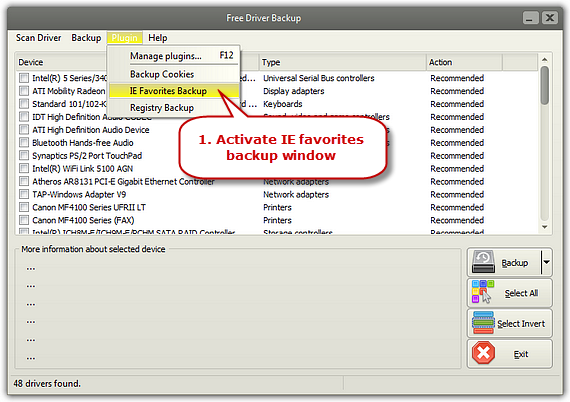 Step 2. Backup IE Favorites
The IE favorites in Favorites will be automatically listed and you can click "Scan IE Favorites" to refresh the list. Click "Select a directory" to choose a folder for the IE favorites. Click "Backup" to store the IE favorites.