Introduction
Free Driver Backup presents you some recommended drivers by default, avoiding that you have no idea about which ones are important and should be backed up first. Meanwhile, Free Driver Backup is able to scan and list every driver in the system so that no expertise is needed – just one button to backup them all.
Step 1. Scan Drivers
Launch Free Driver Backup and all the recommended drivers display in the window. Choose one driver and you'll see its related info like device, date, version, etc. Click "Scan Driver" and you'll find 2 ways to scan the drivers.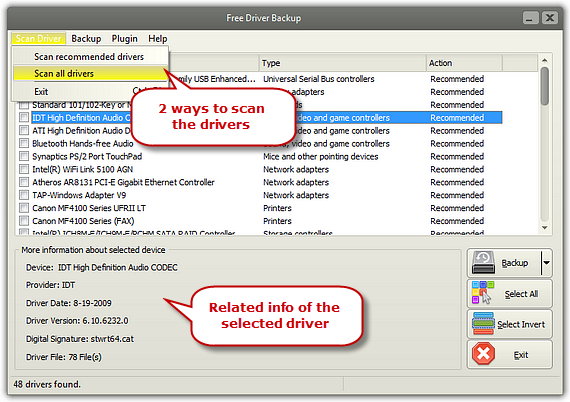 Step 2. Select Drivers
Click "Select All" to choose all the drivers. The "Select Invert" command inverts the selection in the current window. That means all of the drivers which were previously selected are now unselected, and vice versa. If there was no selection before, the command selects the entire drivers.